Floor cleaning companies and other professional janitorial companies can enhance visual appeal of space while also protecting your investment through regular maintenance. One of the most difficult tasks for a business – small or large – is creating the ideal presentation for clients or customers. Office cleaning businesses specialize in keeping your floors tip-top condition through efficient scrubbing, washing and polishing.
Making a Great First Impression
Cleaning companies will help your business make an excellent first impression. When your clients enter your building you want them to view your business as professional – part of that is ensuring that all areas of the office are impeccable. Commercial janitorial staff are experienced in using the latest state of the art tools, chemicals, and techniques for any type flooring you have whether it's wood, carpet, vinyl, or tile. They also make sure those hard to reach spaces are kept clean.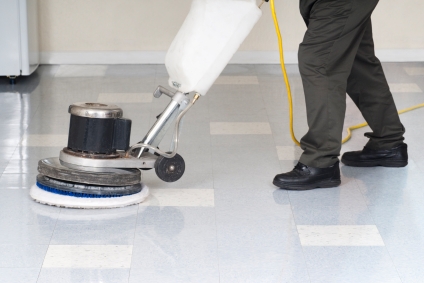 Commercial floor washing goes beyond protecting your surfaces and giving your floors a nice shine or a good vacuuming. Office cleaning businesses eliminate dust mites and other allergens that can be a chronic problem for your clients, customers, and staff. With regular service, you can reduce the incidences of dust related illnesses and increase productivity.
New Technology
With advances in surface cleaning technology leading to the design of highly efficient equipment, your office floors can be washed, polished, scrubbed and vacuumed quickly and quietly. What used to take days can now be accomplished in just a few hours. Since these advances cut down on the time it takes, the cost has been lowered saving your business money.
The technology companies use varies depending on the surface. Professionals have a variety of machines to choose from – scrubbers, washers, polishers, and other machines that remove debris and polish such as buffers and sweepers.
The Basics of Floor Cleaning
While professionals use their own tricks of the trade for various surfaces, there are some basics used by most companies. When vinyl or tile surfaces are being redone, the first step usually requires stripping the entire floor with an environmentally safe stripping product. Once it is stripped it must then be thoroughly rinsed. When the surface dries a sealer is used to reseal the flooring.
Once the sealer has dried, it's ready for your commercial cleaning service to buff it to give it a great shine that is welcoming to all of your clients and staff.
Wood floors require additional steps to keep them in the best possible shape. Professional janitorial staff will give the surface a good mopping and apply a high quality wax paste. The hard wood will then be buffed. If they are showing extensive wear may require extra care like pre-sanding or wax stripping.
Marble floors will be scrubbed with a unique scouring agent, waxed and then buffed to a high shine.
Keeping Your Floors Spotless
All businesses can benefit from using professional cleaning services. Medical complexes, dental offices, manufacturing centers, new construction, churches, apartments and condos, school facilities, and many more commercial buildings have the types of flooring than can only be kept pristine by professionals.
You can request free estimates that will be based on the type of floor, the size needed to be cleaned, and the level of service required. A professional agent will visit your building and discuss your specific needs.
You can choose a one-time service or a maintenance service contract. Many professional cleaning companies offer twenty four hour service seven days a week. Professional and reputable companies are fully licensed and insured for your protection.

Floor Cleaning Companies Prices
Pricing details: We were searching for pricing from multiple floor cleaning companies. The company we went with charged us $350 for stripping and waxing.
-Health Care, Norwood, MA
Pricing details: We spoke with 2 professional cleaning companies and they both went above and beyond to give us all of the pricing information that we were looking for.
-Non-Profit, Spartanburg, SC
Pricing details: The professional cleaning company that we went with submitted a quote to us which was right in the ballpark of what we were looking to spend.
-Health Care, Dover, DE
Pricing details: We got quotes from multiple floor cleaning companies and the best quote that we got was for $490.
-Manufacturing, Reserve, LA
Pricing details: We received quotes from many different office cleaning businesses. The best quote that we got was for $130/month for a weekly services.
-Health Care, Las Vegas, NV
Pricing details: After speaking with a few different floor cleaning businesses, we selected a company that provided us a quote for $150/month
-Business Services, Montville, NJ
Pricing details: I spoke with several professional cleaning companies about their pricing and the services they could provide for me. We have a large clubhouse with multiple offices that we need to be cleaned. We have a month to month contract for $14,196 per year for 3 days per week.
-Recreation Facility, New Port Richey, FL
What other people are looking for
We need the vinyl and terrazzo floors washed and scrubbed with an auto scrubber twice a week and burnished with a high speed burnisher. Please provide per square foot pricing on stripping and waxing and per square foot pricing on scrubbing and waxing.
– Education, Phoenix, AZ
We need basic janitorial service six days a week, in addition to services once a month for floor waxing.
– Media/Entertainment/Publishing Company, Van Nuys, CA
Looking to get in contact with a few different companies. I am looking to see how much it is going to cost to get our floors and baseboards cleaned.
– Health Care Industry, Grove City, OH
We are looking for quotes from a few floor maintenance companies. We have 5 carpeted offices and 3 different areas that we would needed mopped.
– Business Services, Fort Lauderdale, FL
We are looking for quotes from cleaning companies. We want the company to come in every night.
– Restaurant, Richmond Heights, MO
Our company is looking to receive pricing information from a few reliable floor cleaning companies. We are looking for daily service.
– Restaurant, Plano, TX
We are interested in receiving quotes from a few different office cleaning businesses. We have a small office which includes 1 bathroom, 1 small kitchen area, a foyer area and a receptionist area.
– Financial Services, Westlake, OH
We need to get prices from multiple maintenance businesses. Need cleaning for 3 bathrooms, floors to be vacuumed, wood and tile floor care, and dusting of 8 small desk. Also need general service for our small kitchen.
– Retail, Conroe, TX
I am opening my own dental office and would like to receive different pricing options from a few professional cleaning companies.
– Health Care Industry, Elgin, IL
I am looking for pricing from a few companies for my business. We have 12 small rooms and 3 big rooms. Also have 3 small and 2 big bathrooms.
– Advertising/Marketing/PR Mobile AL
I need a cleaning service for my office two times per week. Services to include: Sterilizing bathroom, removing trash, vacuuming all carpets, scrubbing kitchen and floors, washing glass doors, polish all furniture, dusting and mopping floors.
– Other Services, Sterling, VA