Do you want your employees to spend their time getting their jobs done? Or do you want to add vacuuming and keeping the bathroom clean to their responsibilities? Just a tip: that won't go over very well.
Office cleaning companies can be a true lifesaver in the corporate and business world. They will do the dirty work for your business and allow your employees to focus on their jobs.
The Duties of Office Cleaning Companies
There's a janitorial service that's right for any size business. Professional services have experience with facilities and needs of all sizes and types.
An office cleaning company will work with your schedule and your needs. You may need daily care such as trash pickup and disposal, sweeping, vacuuming, and other day-to-day services. You may need a weekly service for heavy duty cleaning. Trained professionals will work hard to meet your standards and needs within your budget.
Basic Maintenance Service
ABM janitorial service is an experienced reputable company that can offer a wide variety of services. You can pick and choose what you desire including any of the following: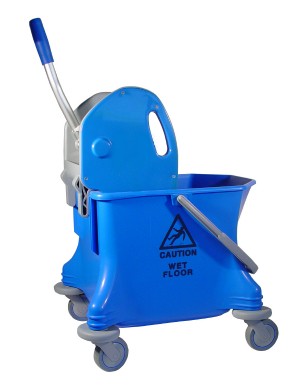 Trash pickup and disposal
Sweeping
Vacuuming
Window washing (interior windows are considered basic)
Dusting and cleaning of surfaces
Cleaning bathrooms
Depending on your needs and budget, you can choose what you need and how often you need it. And you can always change the frequency over time, or ask for a one-time service when needed.
Above and Beyond
Professional cleaning companies such as ABM Janitorial service, Servicemaster Clean and Janiking can also offer out of the ordinary services in addition to the basics. As the business owner, you know what special touches your organization needs. You can discuss out of the ordinary services with your office cleaning professional at any time.
Services that go beyond the day-to-day cleaning offered by professionals can include:
Carpet vacuuming and washing
Washing windows (exterior)
Pressure washing
Re-grouting, re-sealing
Cleaning ceilings and high fixtures
HVAC maintenance (in some cases)
These are services that don't need to be done weekly or even monthly, but they help you keep your facility in good condition.
The Perfect Fit
If you value your business, you know appearance – or making a first impression – is one of the keys to success. You will want to look for companies to clean your office that offer the services you need at a price you can afford. You will have a choice of the services you include in your contract and have control over your budget.
The best janitorial companies offer the most advanced technology to their clients. They have advanced equipment and knowledgeable experienced employees. You should make sure the company bonds employees and has current insurance coverage.
The first thing to do when thinking about hiring a company is to make a list of your needs and how many times you will require their service. Next, schedule an appointment to meet with a professional office cleaning company and allow the agent to do a walk thru. After the walk thru you can meet to discuss any special services you may require.
Office cleaning companies such as ABM Janitorial Service offer what you need to make the best first impression. They will be happy to meet your needs and keep your business sparkling.
Office Cleaning Companies Prices
Pricing details: We paid a company $469 for daily office cleaning services.
– Advertising/Marketing/PR, Emeryville, CA
Pricing details: We wanted to get quotes on what it would take for our office to be cleaned daily. The best price that we found was for $515 a week.
– Business Services, Dunwoody, GA
Pricing details: We chose a daily service that quoted us $689.00. This also included a once a month high speed buff.
– Education, Johnston, RI
Pricing details: Our company received multiple quotes from different business companies. We agreed to work with a company that offered us a quote of $350/month.
– Retail, Alexandria, VA
Pricing details: We agreed to a contract with a company for a daily office clean of our 25,000 sq ft facility. We will be paying $1095/month.
– Non-Profit, Los Angeles, CA
Pricing details: My company was looking for quotes from office cleaning companies. We were able to find one for $485/month for top to bottom daily cleaning.
– Health Care, Newport Beach, CA
Pricing details: We received pricing from many different providers. We went with one that gave us a detailed plan as to what they were going to do and all the pricing included with it.
– Education, Honolulu, HI
What other people are looking for
Looking for a janitorial service bid for our main office area and warehouse dock.
– Transportation/Logistics Company, Riveria Beach, FL
Currently looking for our office to be cleaned 2 to 3 days a week. We are a 5,000 sq. ft. office in need of garbage removal, two restrooms cleaned 2 to 3 days a week and an additional small bathroom in our warehouse which needs service once a month. Overall office services, dusting, garbage removal, vacuuming, mopping and wipe down of refrigerator and microwave once a month. Please submit a quote with the information given as soon as possible. Looking forward to hearing from you.
– Consulting Company, Oxford, CT
We are interested in quotes for monthly office cleaning from bonded service companies. Thank you.
– Insurance Company, Englishtown, NJ
Multi-unit franchise owner looking for services for the flagship store, could be an opportunity for more repeat work based on success and price.
– Construction Company, Duluth, GA
Out-patient office services needed. Provide quotes for daily, twice per week and weekly. 1500 Sq Feet of space.
– Healthcare Company, Reston, VA
Our office is approximately 11025 sq ft on the ground floor and 2000 sq ft upstairs. We have 5 restrooms – 2 ladies rooms with 2 stalls each, and 3 men's rooms with 2 stalls and 2 urinals each. We need two visits per week; the first would be mid-week to empty trash, vacuum, and stock restrooms. The second would be a weekend visit to vacuum, empty trash, clean and stock the restrooms and the break room; we would need the paper products supplied.
– Other Services, Houston, TX
I am looking to receive quotes from a few office cleaning companies. This is for a 1000 sq ft and for a 18 sq ft building. Office has 50 caller cubicles.
– Real Estate, New York, NY
We are trying to get in contact with a few different companies. We have a 2 story; 56,000 sq ft office building and we are interested in hiring a cleaning service.
– Business Services, Las Vegas, NV
We would like to get quotes from some office maintenance companies. We have a 2650 sq ft office. 9 small rooms and 2 small bathrooms. We also need the garbage emptied and some dusting to be done.
– Health Care, Ringwood, NJ
I own a small consulting company and we have grown big enough that I need to can hire a company to clean our office. I am looking for some competitive price from different companies in the area.
– Consulting, Cincinnati, OH
We are looking to get multiple quotes from a few different janitorial companies. We will need for the trash to be taken care of, sweeping and the washing of all floors and bathrooms.
– Health Care, Virginia Beach, VA
We are looking for pricing for janitorial companies for our new office location.
– Health Care, Pensacola, FL
We are interested in getting quotes from a few janitorial companies. We would like a company that takes pride in providing great service.
– Non-Profit, Smyrna, GA