Janiking is one of the leading commercial cleaning services worldwide — and has the proven ability to help you keep your facilities pristine. From being ranked number one year after year as a commercial cleaning company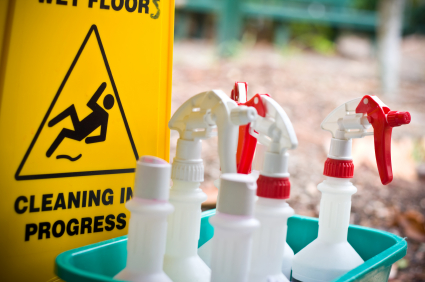 to using new advances in green services, Janiking always offers professional and quality services.
Commercial Office Cleaning with Janiking
If you want to make a great impression and keep customers coming back time and time again, a spotless office or store is very important. Janiking will help you impress your clients every time they visit when they consistently find perfectly washed, scrubbed and polished floors and bathrooms and dust free office. In addition, a healthier environment will improve employee morale.
Studies cited by Janiking shows that cleaner office spaces equal increased productivity. Desks are a cornucopia of harmful germs. Some studies show that office desks can be home to 400 times the germs found in the average bathroom!
Commercial office cleaning offers a wide variety of options. Professional services will give you pristine and fresh restrooms, clean surfaces such as desks, and clean and polished floors in addition to emptying wastebaskets. Services can also include washing interior windows and other larger tasks.
Janiking is King in Healthcare
Janiking is a premier healthcare business. Every year hundreds of thousands of patients die due to healthcare associated infections. It is believed that many of these deaths could be prevented through better cleaning of patient areas.
Professional services keep up with complex, strict, ever-changing healthcare rules and regulations. In addition, Janiking does research on the newest agents and technologies developed to kill dangerous germs.
Janiking is considered the global leader in healthcare cleaning. The company offers a special program just for health care facilities based on best practices from governmental regulatory organizations like the American Society of Healthcare Environmental Services.
Educational Settings
Just like healthcare settings, educational settings offer unique sanitation problems that Janiking can conquer. Schools – from the smallest pre-schools to the largest universities – are full of dangerous germs that can lead to diseases. In fact, the term 'sick school' has been created to describe the current situation of many schools.
Thanks to their experience with educational services, Janiking uses special agents and equipment to ensure a spotless facility and the safety of staff and students. To offer the best prices, Janiking has pricing schedules based on the type of education institution. For example, the needs of a K-12 public school building will be different from a technical college.
And There's More…
Janiking doesn't just clean business offices, hospitals, and schools. While these properties account for a large percentage of their total business, there are many other types of companies using Janiking's services. Janiking tops other companies in the retail world with providing services to banks, shopping centers, supermarkets, car dealerships, and any other retail business you can imagine.
The company even handles services for large stadiums and convention centers after special events. Daily office cleaning and more is offered for manufacturing sites, hospitality sites, and government buildings.
No matter what type of business you have in mind, Janiking professionals have the experience needed to get the job done right.
What other people are looking for
My company is looking for prices from a few different business cleaning companies. Janiking is one option we're interested in. We are looking for services on two floors.
– Manufacturing, Lewisberry, PA
We want competitive quotes from a couple companies including Janiking and Servicemaster. We have 7 offices, 1 conference room, a receptionist area, 2 bathrooms, 1 small kitchen and a small break area.
– Business Services, Winston Salem, NC
My company is interested in getting multiple quotes from different providers. Cleaning would include 17 exam rooms, a conference room, 4 bathrooms and our waiting room. Would like a quote from Janiking specifically.
– Health Care, Eastpointe, MI
I am currently looking for a company to perform a daily office maintenance. This would include mopping, sweeping, bathrooms, washing of windows and taking care of the trash.
– Business Services, Cape Coral, FL
My company is interested in hiring a company to do daily office cleaning for us. We would like for all areas of the office to be pristine when we walk in each morning.
– Health Care, Pittsfield, MA
We are looking to hire an organization to come in daily to clean our office. We would need this for our restrooms, offices and break room.
– Business Services, Lockbourne, OH
I need to get quotes on what it is going to cost for us to have a daily office cleaning. This would mostly include taking care of the floors, the bathroom and taking out the trash.
– Wholesale Industry, Bear, DE